I was going to Warsaw on a work trip and had planned a longrun in the weekend in preparation for Kierat two weeks later. After a bit of searching on routes that would be decent without to much of the hard stuff I somehow landed on finding a race nearby.
After a lot off searching I found a site who gave me the best results for races in Poland. (http://www.maratonypolskie.pl/)
Ultramarathon Kampinoski was perfect for the run I was planning, 55 km on mostly forest tracks without to much technical terrain. Entry was a bit difficult since the sign-up page did not have any payment options for foreigners. The organizers was quick with replies to messages on facebook and entry was secured. Information on the race webpage was only in polish, but google translate managed to do a decent job. Any of my other small questions where handled by email and facebook. The only thing I had to do was to collect my bib at a sports shop i Warsaw and be at the race HQ early on race day.
We where transported by bus to the starting area which took just over an hours, and I was lucky to have a english speaking friendly polish guy to talk to on the way. We arrived 30 minutes before the start on the west side of the Kampinoski national park and just hung around waiting with my new found local guy.
The field was about 130 people and my plan was to take it quite easy from the start and feel how the legs felt. Lined up almost on the tail and started trotting when the gun went off. Even though I had been out drinking the two previous nights, the legs and body felt relaxed from the start, and I tried to find a cruising pace I could hold. After just a few kilometers I started picking people and just enjoyed myself on the nice running paths.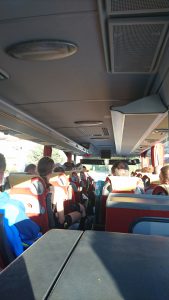 The event had a few checkpoint witch offered water and two who where supposed to offer something to eat, but raisins don't do much for me as food so I just had to hope I would manage to the end without food. I had with me my cellphone, a couple off gels and a handheld that got refilled at every station.
After a while trotting away, picking more people, not quite trusting the pace my Garmin was announcing every kilometer, I came in to the checkpoint at about halfway. The person at the checkpoint seemed to know I was english-speaking, so he yelled to me that I was sixth passing him. Didn't think to much off it, but it game me a little motivation for the last part.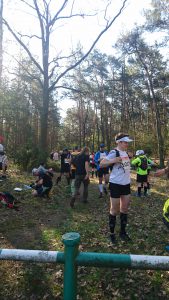 A few kilometers later I spotted someone in front off me, and picking him, I felt he stood still compared to me cruising by. 5th.
With about 10k to go we started meeting people running the shorter race that day, and I was suddenly abit uncertain I was going the right way. The mind stared working after a minute and I continued towards the stream off runners coming the other way. Almost everybody offered some kind of "Bravo" or other words passing me and the motivation increased drastically.
On the last checkpoint at about 6k to go, all runners from the short raced had passed but the lady at the checkpoint pointed at someone further down the trail and said something I did not understand. Started out easy from the checkpoint seeing I was cruising at a higher speed than the guy in front. After only a kilometers I caught him and was prepared to run with him a little while. His two mates where cycling with him, and cheering him on, and suddenly he made a move trying to loose me. He was panting like crazy and not going very fast, but I let him lead for a couple off minutes before I passed and increased my pace. 4th.
With only a few kilometers left I started feeling the backside off my knees cramping up, but I only had to stop once to stretch them out. Managed to hold a good pace all the way to the finish, where we merged with all the people running the shorter race. Over the line in 4:26:03 and collapsed on the ground happy I managed to push all the way. 4th was more than I hoped for and I was happy with my result.
After ten minutes on the ground I walked over to change (no showers) and went to get myself some sugar. Downed two ice cold cokes and started feeling human again. There was a post-race pasta at the finish line and I queued up and sat down to eat. Suddenly I heard what sounded like my name being announced on the speaker and it turned out I somehow managed to get 3rd. Podium! Got my big cardboard check for 100 sloty, a headband and a trophy.
Sat down to eat again, and suddenly poeple started chatting with me and congratulating. Nice experince and frindly people. Very good organized event, the only thing missing was something to eat at a checkpoint or two.
I now feel ready for Kierat in two weeks and feel certain my form is decent.
Strava activity – Event homepage – Results
© OpenStreetMap contributors